I got 200 subscribers on YouTube and I am stoked!
Another day charging my van and I finally know the right settings for the van to charge. I had work today and sat down in one of the seats for some editing after. After a short walk I drove back to my usual parking spot and have done a little more editing. Damn I have shot lots of videos the first couple of weeks. I had so much footage for three days, that I had to split it into 3 individual videos.

This morning it was a little chilly and I didn't go skiing, which means in need to be productive in a different way. As a nice addition to my van lighting, I built two new lights and put up a temperature gauge on the outside of the van. This one is transmitting the temperature and humidity from the outside towards the receiver on the inside, which has another temperature and humidity sensor and shows both! It is so cool to know how cold or warm it actually is on the inside or outside. I lit the fire stove and made myself some tea on it. Some thoughts on the purpose of my trip to Austria came up to me again. I really wanted to do this trip, because I wanted to try out this vlogging and YouTube thing and I wanted to upload consistently. This means it doesn't matter if I miss out on things I really wanted to do, when I need to finish my vlogs or videos in general. Never get caught up on things that don't matter as much, have your vision in front of you is probably what I should be thinking a lot more.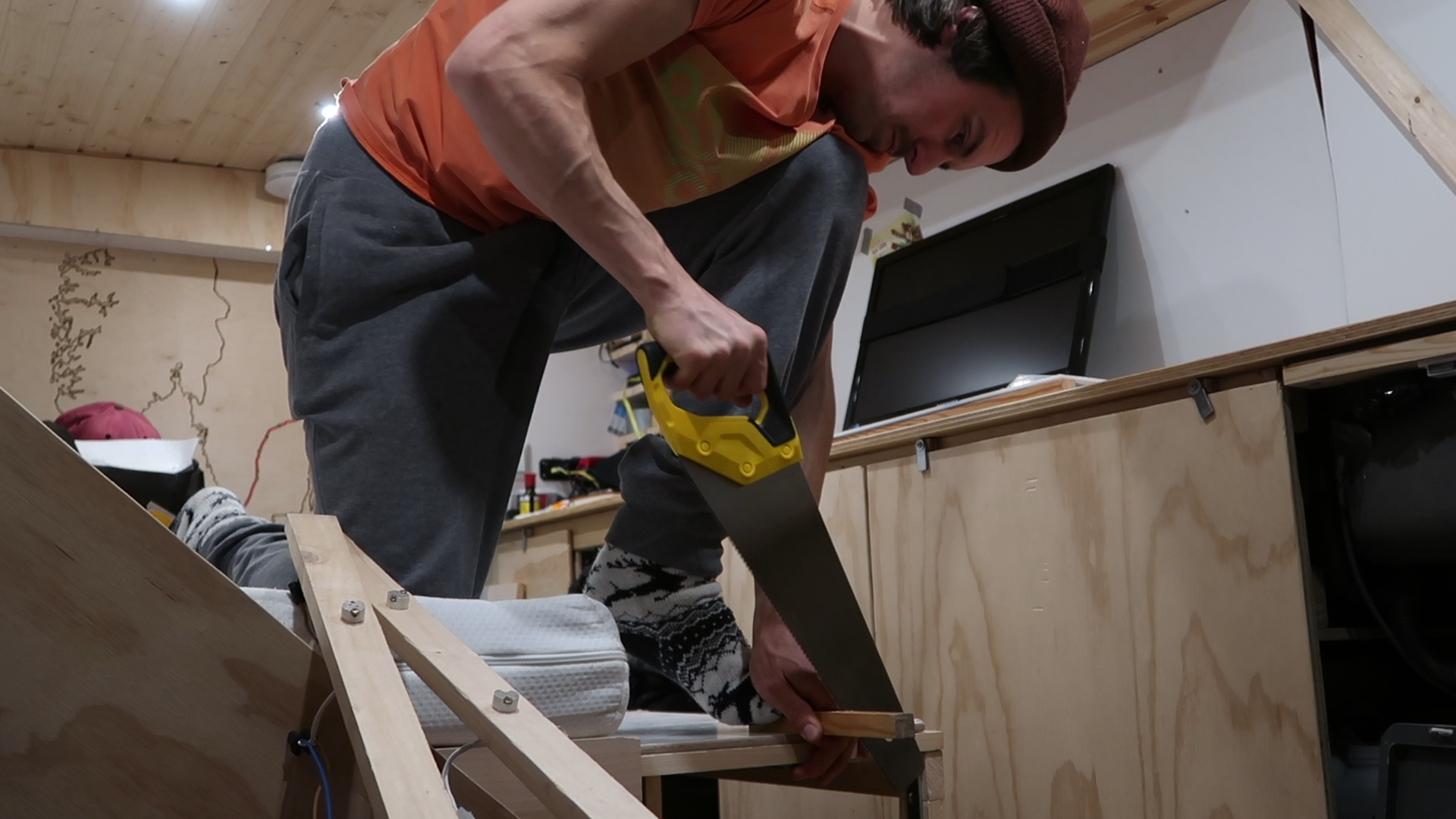 It finally happened! The first morning, where I still had 19°C in my van. A warm morning, how crazy does that sound? I was super surprised. It might've been because of the new briquettes and because I have put 3 in, instead of the usual 2. Another time I didn't have much time and had to sprint to the bus. I headed up towards the mountain and straight to the fun park. I started off with easy boxes and rails, always hiking back up after every try. Second up were a couple of tougher features. One was especially hard, and I could only make the first bit. The other one I made all the way through after a couple of tries, which was so cool! I met Michi and Sophie from the Airparc and had lunch with some random people we met after. We were skiing together a little after lunch and I headed back down soon after. As I walked back to the car, the briquettes were still on! It wasn't warm, but it was still glowing, which meant they have been going for 14 hours! Crazy! Chris sent a message, that he is bored, and I should come in for a sauna. So, I did!
Later, I noticed that I am close to 200 Subscribers on YouTube!
So here is my 200 Subscriber special:
I will send a handwritten letter to everyone of you Subscribers out there.
Just send me a message on Instagram with your address and a question, if you'd like (so I have something to write about, what could provide value to you!).
I will then sit down and write a fully personalized, hand written letter to you!