I got myself snow chains for the winter. Hopefully I will use them!

The last night, it has been snowing and so the mountains look even more beautiful! I am starting to feel better and my resources (gas and wood) are coming to an end, so I will have to stock up soon. I have been procrastinating the whole day, which means nothing interesting to tell you. I was in the Airparc and did jump a little bit and filmed my work mates doing their insane tricks. I cleaned up the van so that I am a little more organized and hopefully not so lazy anymore. This night, I covered all the windows with my insulating plates and pulled the curtain, to shut the very front part off, against the cold. I put in the coal briquettes, to see how they'll do with the proper insulation on.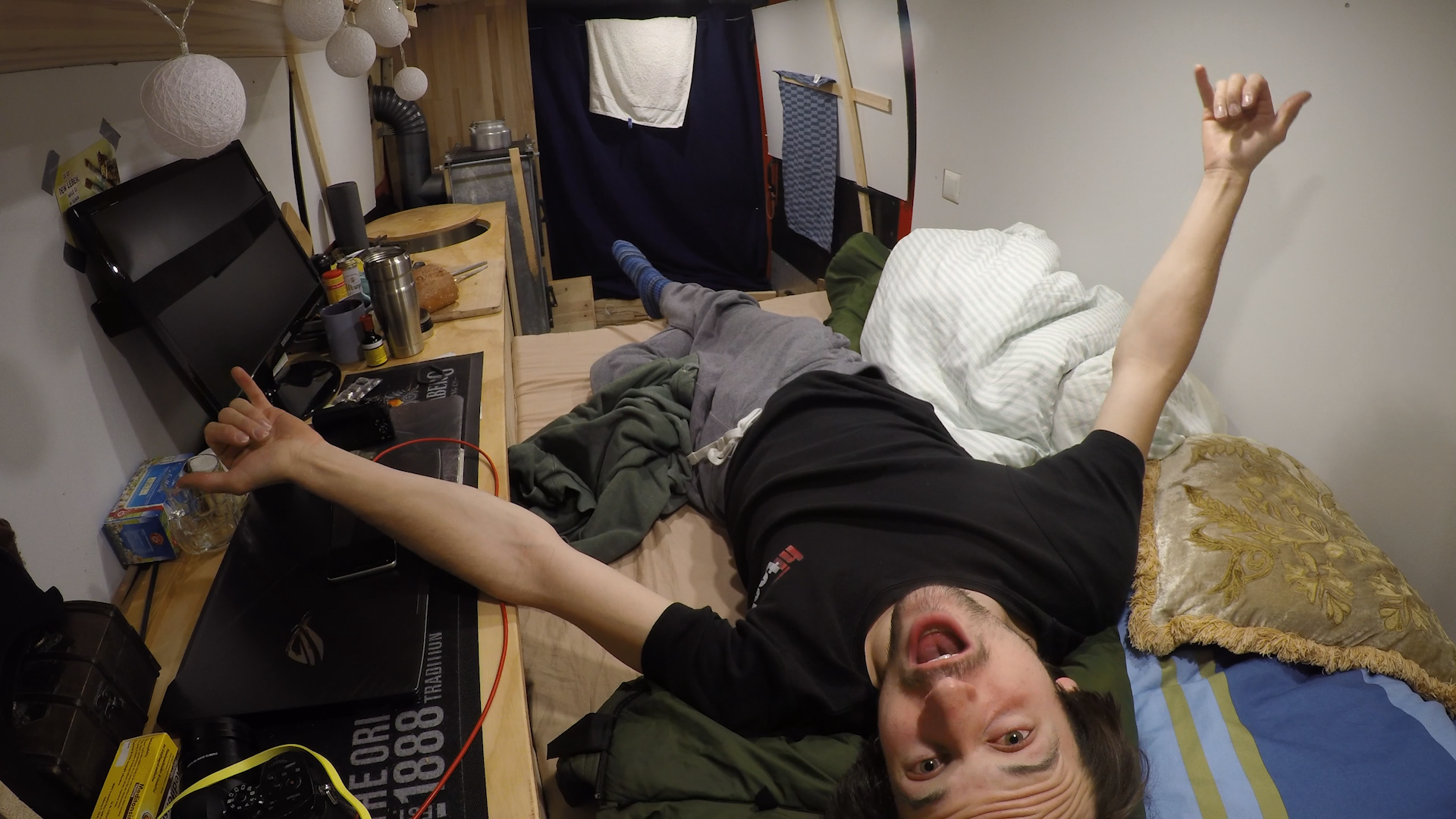 I must have not felt a big difference in the morning, because I didn't tell the camera that it was warm in the morning. I will update you on the coal briquettes and staying warm during the night thing though! Unfortunately, my throat is still not a whole lot better, so I had to stay down while Chris is up on the mountain. Worst thing of the day: I cooked the worst ever food in my whole life. This really did not motivate me at all. Chris missed the bus after skiing and I said I would come and get him, so that he will be in time for work. I didn't secure my food and while I was driving to get him, it went flying around the van. Not the greatest day so far. I cleaned up and Chris made it to work in time, so that is a good thing. At the local car dealer, I asked for snow chains for the car and they normally don't sell them, but I got lucky. They had a pair of used snow chains laying around and sold them to me for a lot less than the original price (still paid a 100€). I was editing a little and went into the Airparc for a jumping session. A friend of my workmate told me I could easily try out one and a half backflips and so I did. It is kind of scary the first time, but I landed it was so stoked that I had made it! On top of that, I practiced all the other jumps that I can do so far. The cork was weird today, my workmate told me that it looks a little odd, when I was doing it. I had a look on my camera and seen it too, so I was trying to change it up a little. Trying to get a little more spin with my arms did the trick for me and it looked a lot more like an actual cork, than a backful. I was uploading a video that night and Chris came after work, so that we could go to his place. It was his birthday the following day, so we had a couple of drinks I headed home shortly after midnight, because we will both be going skiing the next day.