It had to be done at some stage…

I got exciting news! The coal briquettes I put in the night before, were still on in the morning. They didn't really keep the fire stove warm but at least I found something that would last a night. Because I started feeling sick, I decided to be staying in my van for the day and get some rest, drink some tea and do a little editing. I bought some medicine, so I could get better very soon. Chris was sick with the same stuff a couple of weeks before and still has it, so I will be very careful. I filled my water tank up for the first time, so that I could drink a whole lot more tea.

Another morning and my sickness didn't get any better just yet. This day, I was doing number 2 for the first time in my van. I got a bucket with a lid of an actual toilet, where I can put a bag inside, so it does feel like sitting on an actual toilet, but you're still in a van and not on a toilet. It really isn't too bad though, because it is indeed very clean, but I will still try to get around it as much as I can. I was in bed a lot and drinking tea with ginger and lemon and started with the #vanbuild video because I want to make at least something out of the day.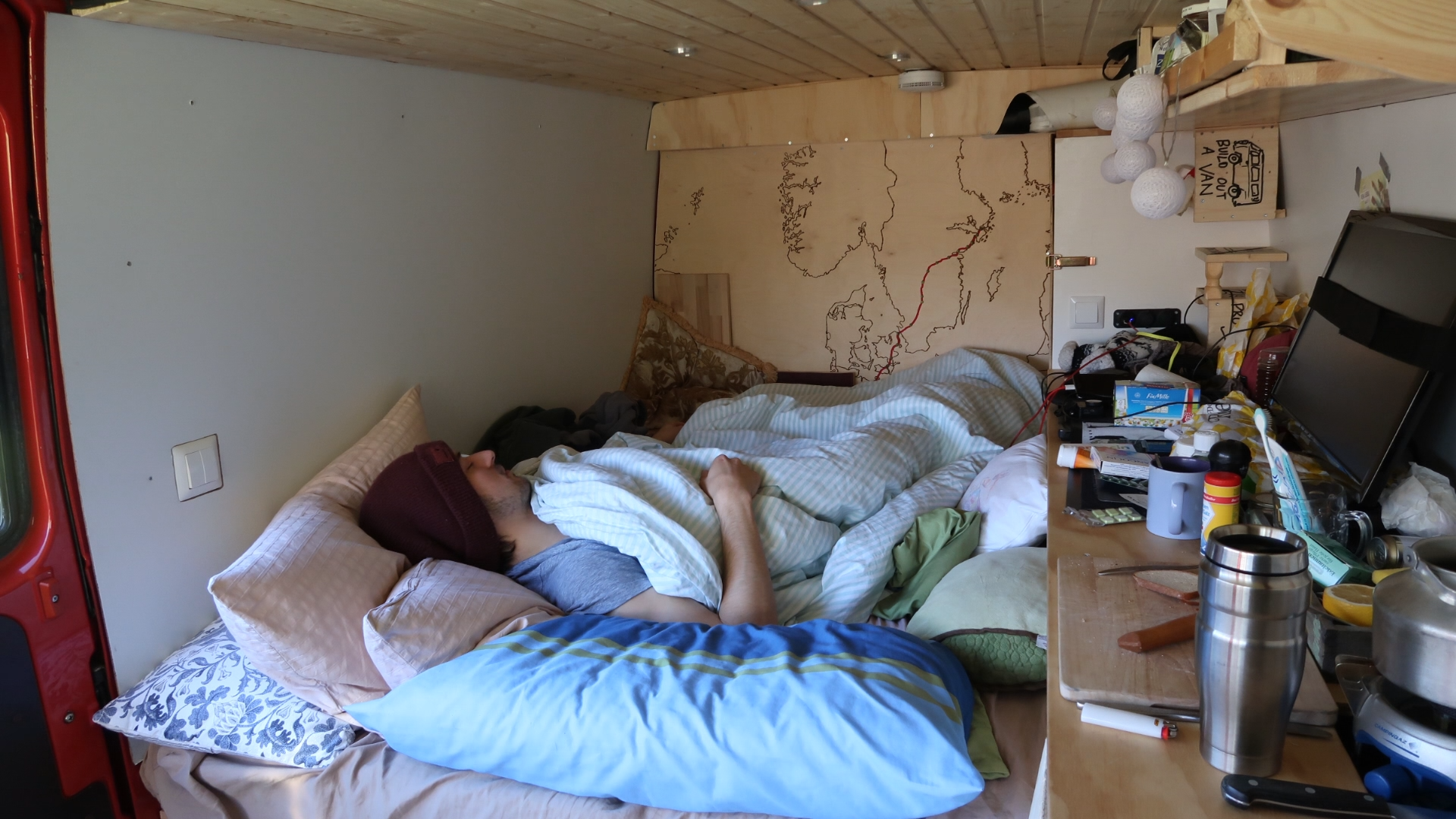 This morning, I got a call to take over another shift of a workmate, who is sick as well. I want to apply for a university, studying film and from today on I can see what kinds of tasks I will have to do for the application to get in. I will focus on this topic in future videos and blogposts because I had to go and get some wood for the wood burner and couldn't really talk about in any longer. At work, there were a film team from redbull and some athletes which was cool to see. They were questioning the athletes, while they were playing table tennis or balancing on my personal balance board! Today I learned my first ever cork! A workmate told me how to do it and in the next post I will focus a little of how I did learn it. It is fantastic though, because this trick (on skis though) is my goal for the season. Right now, I wouldn't ever think I am going to make it but who knows! This day, my car didn't charge somehow, which I will have to figure out next time. I drove back down to my spot and set up the chimney for a nice warm and comfy van.