I bought skiing boots for the first time and they are bloody expensive!

I tested the expensive skiing boots the last couple of days and will probably buy them, because investing in quality shoes when you want to be skiing for a season is probably one of the better things to do. Especially I have had some serious issues with rental boots. I always had bad pressure marks and bruised skin on my shins. I started of this beautiful morning by going over to the Airparc for work. I was editing a little after work and went to Innsbruck with the boots, some washing and my longboard to get around quicker, once I am there. Put on the washing and struggled a little with the payment, because I put 10€ in to the machine, got 4€ back and the washing wasn't even on. I got a call from the dude who ordered my winter tires (I was waiting for this call for more than 2 weeks) and he said I should've been there last Saturday, but he never called me and said I should come! Anyways, I got a date now for the tired on the following Monday.
I went to the shop to do the fitting of my skiing boots, got my washing and headed back towards my van.
I cleaned my van a little bit once I got back and built a nice little shelf for some of my stuff. This is not going to get me lots more space but a least a little for some chords and batteries.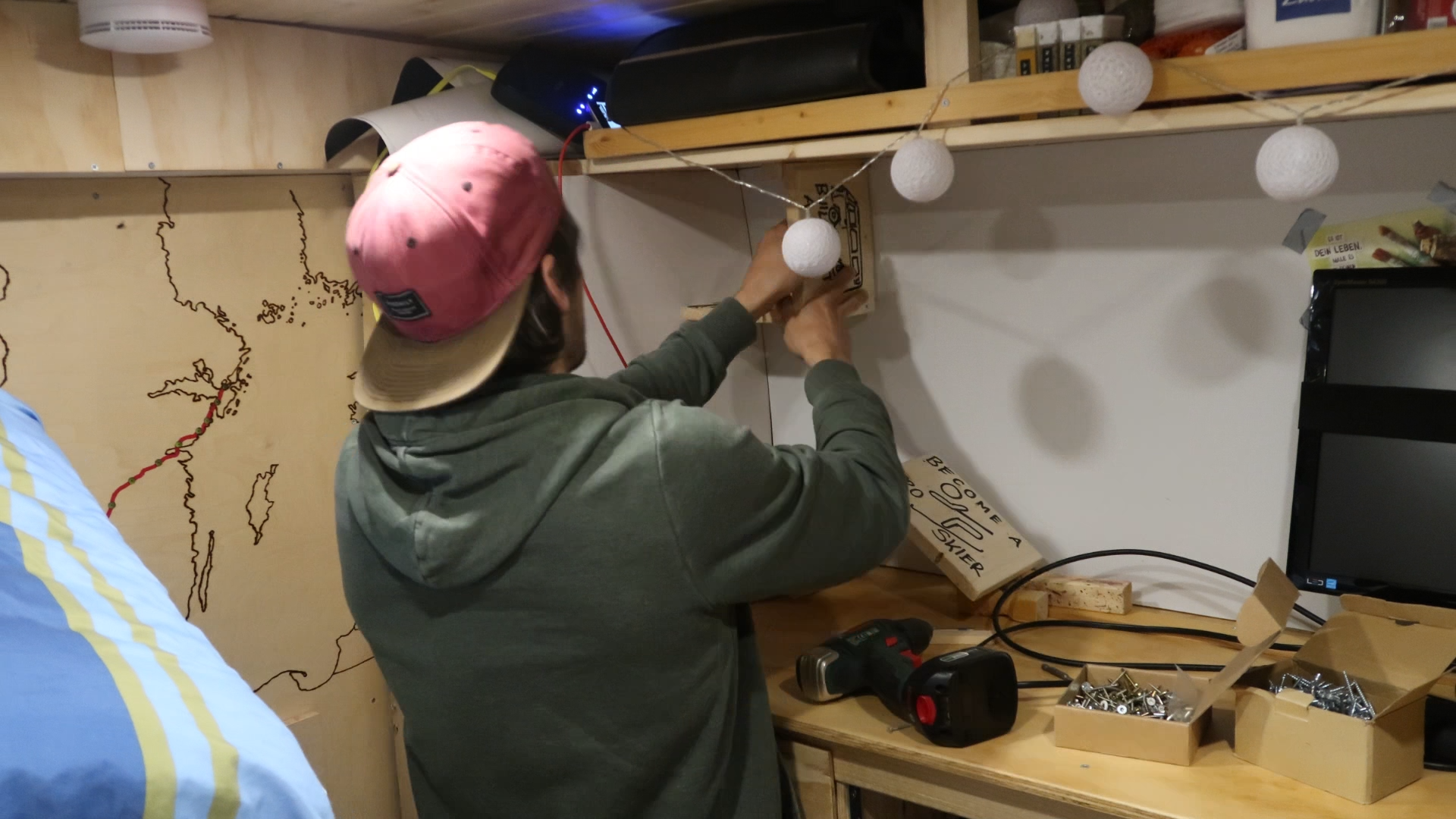 This morning a got a little bit of paper work done and this day, the batterie of my van was flat for the first time. I went for a little bit of a walk with the purpose of collecting some dead firewood but the places I went weren't very good for it. I was talking to a farmer I know from my family and asked if I was able to charge my car, I case I couldn't find a different option. The walk was great and the nature beautiful. I got back to my van and thought it would be awesome to be able to switch around my passenger seat for some more space inside my van, so that vanlife would get a little more comfortable. My work actually has charging points for electric cars, so I went over and asked if I could use them. The answer was yes, because the company owning them is independent from my work company which means I just have to download the app and I am ready to go. I was jumping a little at the Airparc, practiced skating with blades and made myself some tea in my van.
One awesome thing of the day: I got some free goggles from my workmate for skiing. They're meant for girls, so the colour is bright blue and orange, but I don't care 😀